The Municipal Election result has now been determined and is still subject to the final revision census on the 16th June 2021.
I ran for the first time in these elections, and I received in total of 61 votes. Now I know what it means, when people say that 'you feel the weight of the responsibility'. Although this number of votes was not enough for a seat on the council, each vote is unique to its giver. I´m humbled in respect and galvanized to continue forward.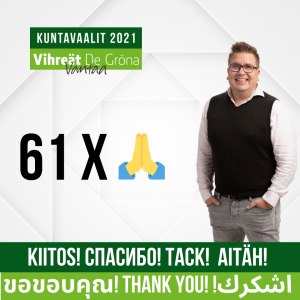 I want to thank all of my voters, supporters, donors, and my campaign team. This has all been possible only with your help. These were special, long and in many ways, extraordinary elections. I am most concerned about Vantaa's turnout, which stood at 48.4%. This is one of the lowest ever. It is said that in an election, the people speak. Now less than half spoke. We must be able to do better. I look forward with particular interest to the views and research of experts on the underlying causes of this phenomenon, so that I can learn and improve what I do in the future to mitigate this.
Next, I´ll enjoy a long summer break from my master's studies, politics and hobbies. I'm going to take time for domestic travel and cycling. And of course reading, because I want to see how many parts I can finish from the remaining 24 in Terry Pratchet's Discworld series. I wish you and your loved ones a wonderfully sunny and relaxing summer.
And please remember to support small business owners this summer by buying their products and services whenever possible. 🙏